As usual, a portion of the proceeds of all sales of wolf photos is donated to organizations dedicated to helping wildlife, or wildlife habitat, in Clayoquot Sound.
This year I have donated to the Friends of Clayoquot Sound, and Strawberry Island orca researchers.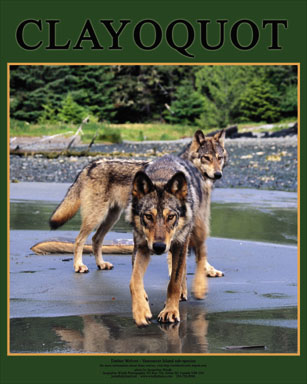 Wolf poster
As a result of many requests, I am publishing a poster!
It will measure 16"x20", and the photo "Approaching Wolf" will be 15"x15" - the whole poster is suitable for framing, or you can cut out the photo and just frame it only.
Until Christmas only, this poster will be available at a special price of $20 including all taxes and postage within Canada or the US. Additional copies of the poster will be $15, provided that they are shipped to the same address.
To order, please send a cheque with complete order information to the address below.
Please note that I will be away in November - orders received by October 25 will be shipped by the end of October. Orders received after that date will be shipped in the second week of December, just in time for Christmas.
Limited Edition Prints
I am also putting the Limited Edition Prints Shoulder to Shoulder and Wolf at Seashore on sale until Christmas. I am offering these prints at 25% off of regular prices (unmounted prints only) and free shipping (ExpressPost) within Canada. Prices are:
Size(inches) Regular Price Sale Price*
8x12 $200 + shipping $150
12x18 $275 + shipping $206
16x24 $350 + shipping $262
*plus 7% GST
Fine Art Prints
Any of my other wolf prints are available as part of my Fine Art series. These prints are not on sale, but I will include postage in the prices for now. Prices are:
Size (inches) Price*
5x7.5 $40
8x12 $95
12x18 $150
8x8 $90
12x12 $125
16x16 $175
*plus 7% GST
Please note that the square-format ones are Approaching Wolf and Wolves Playing (shown square on this site). All other prints are rectangular.
Ordering prints or posters
To order Limited Edition or Fine Art prints, please send a cheque with order information to me at the address below. Please don't forget to calculate and add the 7% GST (except for the posters). Overseas orders do not have to pay GST, but please contact me first about shippping costs.
Please order as soon as possible if you want to receive the print by Christmas.
Please make your cheque payable to Jacqueline Windh, and send your order to:
Jacqueline Windh Photography
PO Box 738
Tofino BC Canada V0R 2Z0
If you have any questions about these offers, please contact me by phone or email:
250-725-2484, or